332IQ Thumb Grips – 10 stuks – PS4 en PS5 – Zwart met Witte cirkel

Wist je dat het is mogelijk is om de levensduur van jouw Dualshock controllers te verlengen door een simpele aanpassing tegen een lage prijs? Probeer de 332IQ Thumb Grips!
De controllers van Playstation 4 en 5 kan bij normaal gebruik uiteindelijk slijten of breken, zelfs als je extra voorzichtig bent. Gelukkig is er een snelle en relatief goedkope oplossing voor dit probleem d.m.v. de 332IQ Thumb Grips. Deze verminderen slijtage van de standaard controllers en is dus een uitkomst voor je PS4 controller. Wij hebben daarom ook onderzoek gedaan naar wat de beste Thumb Grips PS4 dan zijn voor je controller voor een schappelijke prijs.
Verbeter de handeling van je controller en precisie bij het schieten met de 332IQThumb Grips. Iemand quickscopen bij Battlefield 4, Call of Duty, Battlefield 1 en Destiny was nog nooit zo gemakkelijk! Bestel deze thumb grips nu en geniet van elke final killcam.
Daarnaast zijn deze ook nog eens goed voor je zweethandjes 😉
De beste gaming producten vind je met korting bij PocketCubes
Specificaties:
332IQ Thumb Grips – 10 stuks – PS4 en PS5 – Zwart met Witte cirkel
| | |
| --- | --- |
| Game platform | PlayStation, PlayStation 4, PlayStation 5 |
| Personage | Geen personage |
| Kleur | Wit, Zwart |
| Materiaal | Siliconen |
| EAN | 7423622214243 |
| Gewicht | 13 g |
| MPN (Manufacturer Part Number) | OEM |
| Taal handleiding | Universeel |
| Talen container | nl |
| Type thumpstick | Antislip |
| Verpakking breedte | 50 mm |
| Verpakking hoogte | 20 mm |
| Verpakking lengte | 100 mm |
| Verpakkingsinhoud | 10 gripknopjes |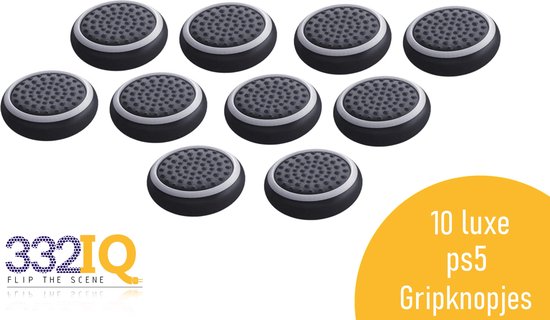 332IQ Thumb Grips – 10 stuks – PS4 en PS5 – Zwart met Witte cirkel