Lords Of The Fallen – Limited Edition – Windows

De Limited Edition bevat:
• Game Lords of the Fallen LE

• Soundtrack

• The Monk's Decipher DLC

• Demonic Weapons Pack DLC
Lords of the Fallen

In een meedogenloze wereld waar geen enkele zonde ooit is vergeten, krijgt Harkyn, een veroordeelde crimineel, een kans op verlossing. Net op het moment dat de heersers des wereld een manier vinden om al het kwaad uit de mensheid te verbannen, slaat het leger van een ooit versagen en verdreven godheid opnieuw toe. Harkyn wordt vrijgelaten uit de gevangenis om samen met zijn mentor deze oorlog te stoppen.Op zijn missie komt Harkyn langs sterke bondgenoten en nog sterkere vijanden…Hij leert de ware kracht van de Rhogar Lords, de bevelhebbers van het leger en bindt zelf de strijd tegen ze aan, onderweg naar het hart van de demonische dimensie.
Zal de god erin slagen om de mens weer tot slaaf te maken van zijn heerschappij? Is de mens echt in staat om het kwaad uit te roeien? Zullen Harkyn's zonden ooit echt vergeven worden?
Lords of the Fallen is een actie-RPG die zich afspeelt in een middeleeuwse fantasiewereld, ontwikkeld voor PS4, Xbox One en PC, door Deck 13 in samenwerking met CI Games

De beste gaming producten vind je met korting bij PocketCubes
Specificaties:
Lords Of The Fallen – Limited Edition – Windows
| | |
| --- | --- |
| Merk | Gadgy |
| Platform | Windows |
| Genre | Avontuur, Role Playing Game (RPG) |
| Speleditie | Standard edition |
| Gesproken taal | en |
| Format | Dvd-rom |
| EAN | 5907813598883 |
| Doelgroep | Fanatieke gamer |
| Minimale leeftijd | 16 |
| Online abonnement vereist | Geen abonnement vereist |
| Online optie | Nee |
| Online multiplayer | Nee |
| Splitscreen | Nee |
| Regio | Region Free |
| Systeemeisen | CPU: Intel Core 2 Quad Q8400 @ 2.66GHz or AMD Phenom II X4 940 @ 3.0GHzCPU Speed: InfoRAM: 6 GBOS: Windows Vista (SP2), Windows 7 (SP1) or Windows 8 (only 64 bit OSs)Video Card: GeForce GTX 460 or betterSound Card: YesFree Disk Space: 25 GB |
| Retour- en annuleerbeleid | Klik hiervoor op Retourneren onderaan deze pagina |
| Verpakking | Amaray |
| Gewicht | 134 g |
| Gewonnen prijzen | Geen |
| Oorspronkelijke releasedatum | 2014-10-28 |
| Speltype | Oorlog |
| Talen container | en |
| Verpakking breedte | 132 mm |
| Verpakking hoogte | 8 mm |
| Verpakking lengte | 184 mm |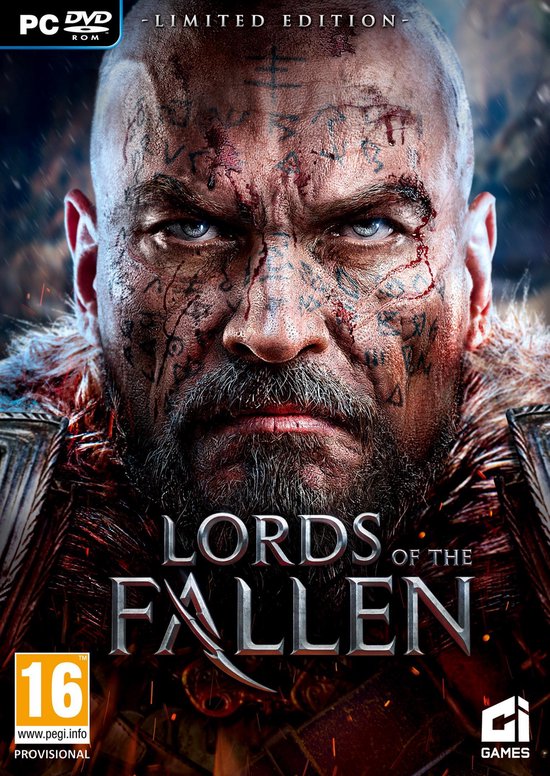 Lords Of The Fallen – Limited Edition – Windows