Of Orcs and Men – Windows

Of Orcs and Men is een rollenspel waarin een brute oorlog tussen het Rijk der Mensen en de orcs centraal staat. Mensen slachten de orcs en de goblins structureel af, en wanneer ze niet gedood worden, worden ze behandeld als slaven. In deze game speel je een hooggeplaatste soldaat van de orcs. Het is jouw taak een einde aan dit bloedbad te maken.
Als lid van het legioen van de Bloodjaws, fanatieke strijders van de orcs, is het jouw taak de onmenselijkheden van de mensheid een halt toe te roepen. Vermoord de man die verantwoordelijk is voor de alles, de persoon die de jacht op de groenhuiden opende, de keizer zelf!
Een kleine goblin zal jou helpen, en al snel ontdek je dat de twee goed samen kunnen werken. Op basis van jouw prestaties ontwikkel je nieuwe vaardigheden en is het mogelijk de twee personages verder te ontwikkelen. De orc is krachtiger in de aanval en in het blokkeren van vijandelijke aanvallen, terwijl de goblin goed kan sluipen.
Deze twee helden moeten vele gevaren overwinnen. Moeten onderhandelen met de tovenaars, vechten tegen huurmoordenaars en de soldaten van het mensenrijk. Daarnaast stuiten zij op de zusters van Laments. Wanneer de wereld in chaos vervalt, is het aan jou om een einde aan al deze gruweldaden te maken!

De beste gaming producten vind je met korting bij PocketCubes
Specificaties:
Of Orcs and Men – Windows
| | |
| --- | --- |
| Merk | Focus Home Interactive |
| Online optie | Ja |
| Genre | Role Playing Game (RPG) |
| Speleditie | Standard edition |
| Gesproken taal | en |
| Format | N/A |
| EAN | 3512899109674 |
| Doelgroep | Fanatieke gamer |
| Minimale leeftijd | 16 |
| Inhoud leeftijdsindicatie | Geweld, Grof taalgebruik |
| Online abonnement vereist | Geen abonnement vereist |
| Platform | Windows |
| Systeemeisen | Minimale systeemeisen: Besturingssysteem: Windows XP (SP3), Windows Vista (SP2) (64-Bit), Windows Vista (SP2) (32-Bit), Windows 7 (64-Bit), Windows 7 (32-Bit) Intel Processor: Intel Core 2 Duo 2.00 GHz AMD Processor: Multicore CPU Videokaart nVidia: nVidia GeForce 8800 GT Videokaart AMD: ATI Radeon HD 3850 Pro Werkgeheugen: 2.0 GB Harde Schijf: 6.00 GB |
| Regio | Region Free |
| Retour- en annuleerbeleid | Klik hiervoor op Retourneren onderaan deze pagina |
| Verpakking | Amaray |
| Gewicht | 0.1000 kg |
| Gewonnen prijzen | Geen |
| Oorspronkelijke releasedatum | 2012-10-11 |
| Speltype | Third Person |
| Talen container | en |
| Verpakking breedte | 0.0 cm |
| Verpakking hoogte | 0.0 cm |
| Verpakking lengte | 0.0 cm |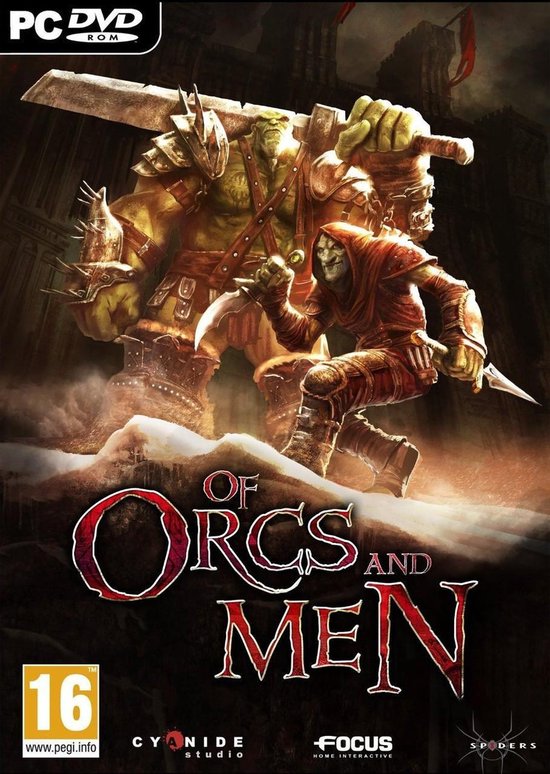 Of Orcs and Men – Windows