Ps4 Plants Vs. Zombies: Garden Warfare 2

In de third person shooter Plants vs. Zombies: Garden Warfare 2 wordt het conflict in Suburbia steeds groter en groter de naam is inmiddels omgedoopt tot Zomburbia. De zombies hebben de wijk overgenomen en voor het eerst zijn de rollen omgedraaid en moeten de planten in de aanval!
Breng nog meer strategie en diepte binnen het botanische strijdveld met in totaal 14 verschillende klassen en meer dan 100 speelbare planten en zombies!
Speel solo of met een vriend ook in lokale multiplayer:
De game is solo te spelen, je neemt het dan op tegen computergestuurde vijanden maar de lol van het spel wordt pas echt groot als je samenspeelt. Speel in local split-screen alle diverse modi zonder dat hier een aanvullende abonnementsdienst voor verplicht is.
Of ga online met tot wel 24 spelers in de online multiplayer, deze modus kun je met maximaal vier vrienden coöperatief of in je eentje onveilig maken.
Character transfer:
Bij de lancering van deze game zal het mogelijk zijn om je oude personages uit de vorige game over te zetten naar Garden Warfare. (Let op niet alle personages kun je transferen)

De beste gaming producten vind je met korting bij PocketCubes
Specificaties:
Ps4 Plants Vs. Zombies: Garden Warfare 2
| | |
| --- | --- |
| Merk | Electronic Arts |
| Online optie | Ja |
| Genre | Actie, Avontuur, Role Playing Game (RPG), Shooter |
| Speleditie | Standard edition |
| Gesproken taal | en |
| Format | Blu-ray |
| EAN | 5030942123340 |
| Doelgroep | Fanatieke gamer, Gezelschapsgamer, Kindergames, Vrijetijdsgamer |
| Minimale leeftijd | 7 |
| Inhoud leeftijdsindicatie | Geen specifieke meldingen |
| Online abonnement vereist | PlayStation Plus |
| Platform | PlayStation 4 |
| Splitscreen | Nee |
| Online multiplayer | Ja |
| Aantal spelers | 8 |
| Aantal spelers offline | 1 |
| Regio | PAL |
| Retour- en annuleerbeleid | Klik hiervoor op Retourneren onderaan deze pagina |
| Verpakking | Amaray |
| 4K-gaming ondersteuning | Ja |
| Reparatie type | Carry-in |
| Speltype | Behendigheid |
| Talen container | nl |
| Virtual Reality mogelijkheden | Niet geschikt voor VR |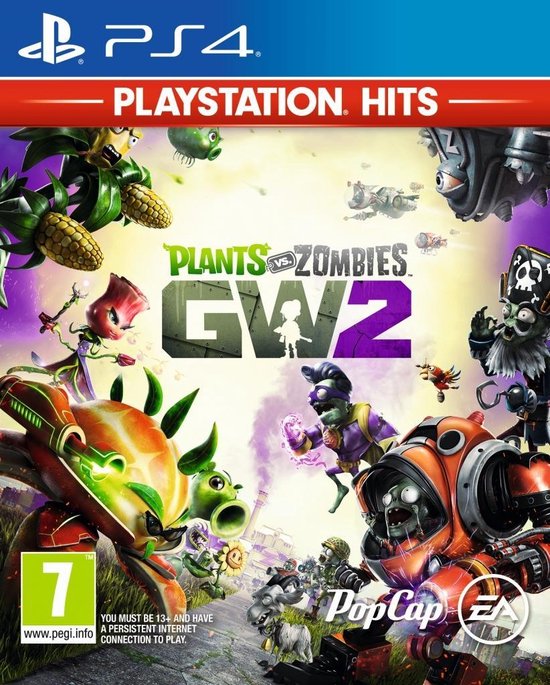 Ps4 Plants Vs. Zombies: Garden Warfare 2