Speedlink THEBE Stereo Headset – Zwart

Of het nu gaat om videoconferenties of entertainment, de stereo headset van THEBE is altijd de juiste keuze en combineert

kristalhelder stereogeluid met het hoogste niveau van draagcomfort. Door de superzachte en omsluitende oorschelpen worden hinderlijke geluiden van buitenaf effectief tegengehouden en de verstelbare, gewatteerde hoofdbeugel zorgt voor een optimale pasvorm. De inklapbare microfoon en de afstandsbediening die in de kabel is geïntegreerd, vervolledigen deze headset en maken hem tot de

perfecte oplossing voor op kantoor en in de woonkamer.
Kenmerken:
Stereo headset met verstelbare hoofdbeugel.
Inklapbare microfoon.
Zacht gevoerde hoofdbeugel en zachte oorschelpen.
Afstandsbediening geïntegreerd in de kabel.
Drivereenheden: 40 mm.
Impedantie hoofdtelefoon: 32 Ω.
Uitgangssignaal hoofdtelefoon: 20 Hz-20 kHz.
Geluidsdrukniveau: 10 dB ± 3 dB at 1 kHz.
Vermogen: 100 mW.
Impedantie microfoon: 2 kΩ.
Uitgangssignaal microfoon: 100 Hz-10 kHz.
Gevoeligheid microfoon: -40dB ± 3dB bij 1 kHz.
Richtingskarakteristiek: omnidirectioneel.
Dubbele 3,5 mm jackplug.
Kabellengte: 2,2 m.
Afmetingen: 170 × 190 × 70 mm (B × H × T)
Gewicht: 220 g (incl. kabel).
De beste gaming producten vind je met korting bij PocketCubes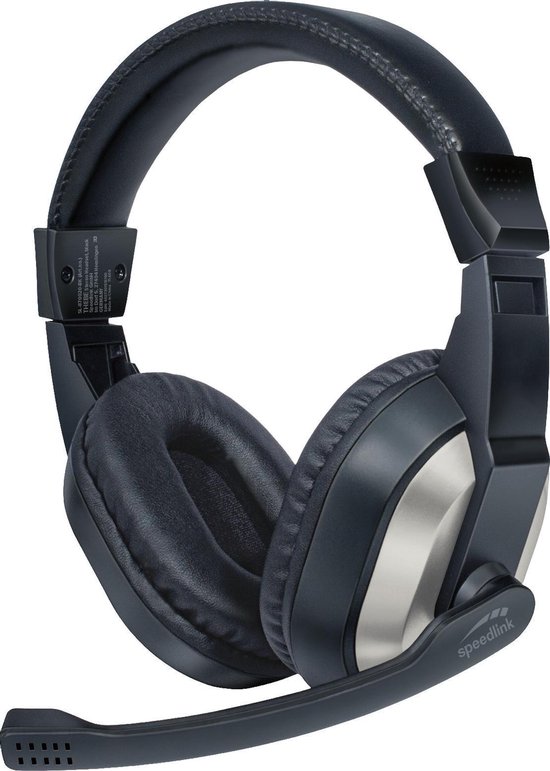 Speedlink THEBE Stereo Headset – Zwart