The Surprising Adventures Of Munchausen

Voorkom de bruiloft tussen een mooie prinses en een schurkachtige vreemdeling in The Surprising Adventures of Munchausen, een betoverend zoek en vind avontuur!
Het eens zo welvarende en vrolijke koninkrijk is gehuld in duisternis en wanhoop. Het Hart van het Koninkrijk, het magische kristal dat voorheen de enige bron van licht en hoop was voor alle inwoners, is vernietigd door de schurk. De verslagen en arm geworden koning wordt hierdoor gedwongen om zijn mooie dochter te laten trouwen met een vreemdeling, in ruil voor een kist met goud. Voelende dat de vreemdeling slechte bedoelingen heeft, schrijft de prinses een brief naar Munchausen die de taak krijgt om het huwelijk te voorkomen en het koninkrijk te redden in The Surprising Adventures of Munchausen!
Meer over het spel:
Kraak de vele unieke mini-games
Gebruik je vaardigheden om de uitdagende puzzels te kraken
Zoek de voorwerpen bij elkaar in de zoek en vind levels
Uitgebreide animaties
Herstel het Hart van het Koninkrijk
Nederlandstalig spel
SYSTEEMEISEN
Besturingssysteem: Windows XP/Vista/7
Processor: 1.6 GHz
Geheugen: 1024 MB RAM
DirectX: versie 9.0
De beste gaming producten vind je met met de scherpste prijs bij PocketCubes
Specificaties:
The Surprising Adventures Of Munchausen
| | |
| --- | --- |
| Merk | Denda Games |
| Regio | PAL |
| Genre | Avontuur |
| Speleditie | Standard edition |
| Gesproken taal | en |
| Format | Dvd-rom |
| EAN | 8715181993318 |
| Doelgroep | Fanatieke gamer |
| Minimale leeftijd | 7 |
| Online abonnement vereist | Geen abonnement vereist |
| Online multiplayer | Nee |
| Splitscreen | Nee |
| Platform | PC |
| Retour- en annuleerbeleid | Klik hiervoor op Retourneren onderaan deze pagina |
| Systeemeisen | compatibele besturingssystemen: Windows XP, Vista, 7, aanbevolen processor: 1600 MHz, aanbevolen RAM geheugen: 1024 MB |
| Verpakking | Amaray |
| Fabrieksgarantie termijn | Geen fabrieksgarantie |
| Gewonnen prijzen | Geen |
| Oorspronkelijke releasedatum | 2012-11-08 |
| Speltype | Point and Click |
| Talen container | nl |
| Uitzonderingen fabrieksgarantie | Dit is GEEN nieuw spel. Er is reeds mee gespeeld, maar speelt goed. |
| Verpakking breedte | 0.0 cm |
| Verpakking hoogte | 0.0 cm |
| Verpakking lengte | 0.0 cm |
| Verpakkingsinhoud | 1 x CD |
1 recensie voor
The Surprising Adventures Of Munchausen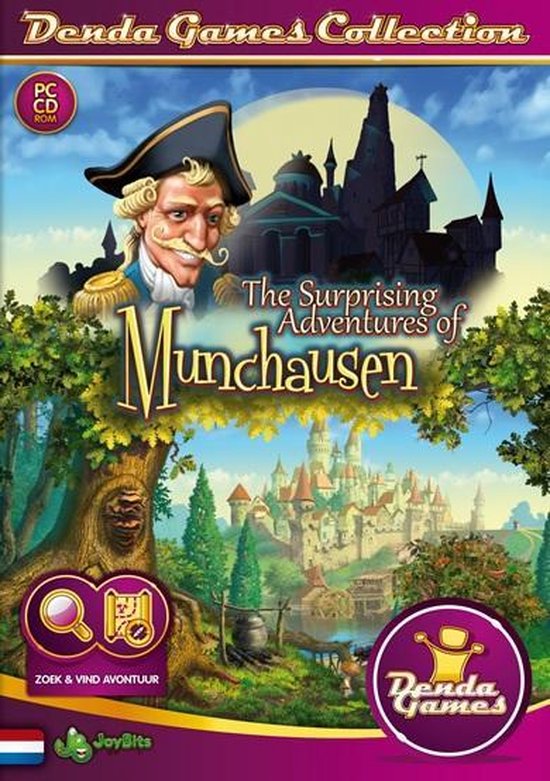 The Surprising Adventures Of Munchausen