The Unicorn Princess – PS4

Speel met eenhoorns in The Unicorn Princess! Een geweldloos familiespel, perfect voor liefhebbers van paarden en eenhoorns. The Unicorn princess is de enige eenhoorngame in 2019.
Kenmerken:
Een game die het realisme van paarden combineert met de fantasie van eenhoorns
15 verschillende missies verdeeld over twee werelden
Veel mogelijkheden om je personage en paard aan te passen
Een open wereld om te verkennen op de rug van een van de zes beschikbare paarden
Engels gesproken, met Nederlandse ondertiteling en menu's.
De beste gaming producten vind je met met de scherpste prijs bij PocketCubes
Specificaties:
The Unicorn Princess – PS4
| | |
| --- | --- |
| Merk | Bigben |
| Platform | PlayStation 4 |
| Genre | Simulatie |
| Speleditie | Standard edition |
| Personage | Geen personage |
| Gesproken taal | en |
| Format | Blu-ray |
| EAN | 3499550381870 |
| Doelgroep | Kindergames, Gezelschapsgamer |
| Minimale leeftijd | 3 |
| Inhoud leeftijdsindicatie | Geen specifieke meldingen |
| Regio | PAL |
| Retour- en annuleerbeleid | Klik hiervoor op Retourneren onderaan deze pagina |
| Verpakking | Amaray |
| 4K-gaming ondersteuning | Nee |
| Fabrieksgarantie termijn | Geen fabrieksgarantie |
| Gewicht | 75 g |
| Gewonnen prijzen | – |
| Ondertitels | Geen ondertiteling |
| Oorspronkelijke releasedatum | 2019-11-14 |
| Reparatie type | Carry-in |
| Speltype | Fantasie |
| Talen container | fr |
| Verpakking breedte | 137 mm |
| Verpakking hoogte | 17 mm |
| Verpakking lengte | 171 mm |
| Virtual Reality mogelijkheden | Niet geschikt voor VR |
2 recensies voor
The Unicorn Princess – PS4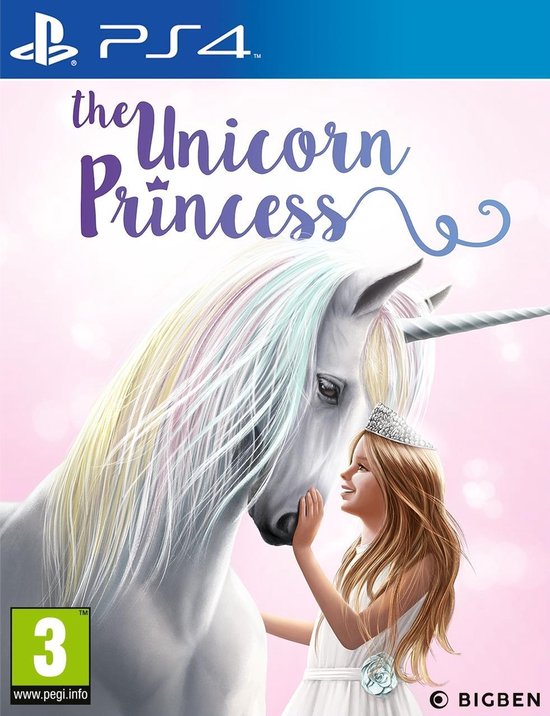 The Unicorn Princess – PS4