Baldur's Gate Collector's Pack – Xbox One

Deze Baldur's Gate Enhanced Edition Collector's Pack is voor de echte verzamelaars! Uiteraard bevat het de Enhanced Edition van Baldur's Gate maar ook diverse extra's zoals onder andere een unieke Collector's Box, een kaart van de wereld en nog veel meer!
Baldur's Gate: Enhanced Edition is compleet geoptimaliseerd om te spelen op console en bevat naast het origineel Baldur's Gate, het vervolg, Baldur's Gate II met alle DLC- en herziene quest content. Daarnaast zitten de uitbreidingen Baldur's Gate: Siege of Dragonspear en Baldur's Gate II: Throne of Bhaal er ook bij, inclusief nieuwe content die ontwikkeld wordt door Beamdog. Deze nieuwe content is exclusief voor deze uitvoering en vormt een brug tussen de twee games.
Inhoud Baldur's Gate Enhanced Edition Collector's Pack:

Collector's Box

Metal Engraved Dice (D20) met afbeelding van BhaalSpawn in een unieke tin

Baldur's Gate "BhaalSpawn" Medaillion

Faux Leather Journal

Set of 3 Pins: Black Pits – Bealoth's Medallion, Siege of Dragonspear – Dragonspear Medallion, Shadows of Amn – Irenicus' Medallion

Set of 3 Hero Cards (Minsc & Dynaheir, Wilson & Imoen en Viconia)

Parchment Style Map of All Worlds

De beste gaming producten vind je met met de scherpste prijs bij PocketCubes
Specificaties:
Baldur's Gate Collector's Pack – Xbox One
| | |
| --- | --- |
| Merk | Dungeons and Dragons |
| Online optie | Nee |
| Genre | Role Playing Game (RPG) |
| Speleditie | Collectors edition |
| Gesproken taal | en |
| Format | Blu-ray |
| EAN | 5390102521516 |
| Doelgroep | Fanatieke gamer |
| Minimale leeftijd | 16 |
| Inhoud leeftijdsindicatie | Geweld |
| Online abonnement vereist | Geen abonnement vereist |
| Platform | Xbox One |
| Splitscreen | Nee |
| Online multiplayer | Nee |
| Aantal spelers | 1 |
| Aantal spelers offline | 1 |
| Regio | Region Free |
| Retour- en annuleerbeleid | Klik hiervoor op Retourneren onderaan deze pagina |
| Verpakking | Amaray |
| 4K-gaming ondersteuning | Nee |
| Oorspronkelijke releasedatum | 2019-10-24 |
| Speltype | Fantasie |
| Talen container | en |
| Virtual Reality mogelijkheden | Niet geschikt voor VR |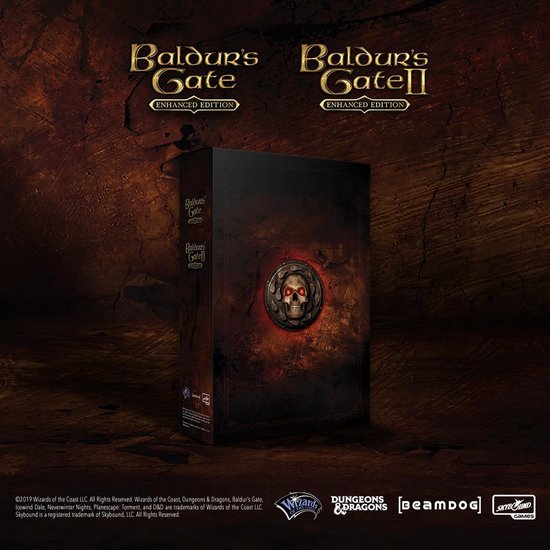 Baldur's Gate Collector's Pack – Xbox One