Command & Conquer – The Ultimate Collection – Code in a Box – PC

Command and Conquer: The Ultimate Edition

Is een downloadbare compilatie van alle spellen uit de Command & Conquer-reeks.
Van de eerste C&C tot aan Generals, en van de oorlog tussen Nod en de GDI tot aan de fictieve oorlogen van Red Alert tussen de Amerikanen en de Russen. Het pakket bevat 17 spellen!
Vecht als het Global Defense Initiative of het Broederschap van Nod en ga de confrontatie aan voor het zeldzame mineraal tiberium in de klassieke originele serie. Daag het rode gevaar uit in een alternatief universum in Red Alert, en stap daarna in de nabije toekomst met Generals terwijl China en de Verenigde Staten het opnemen tegen de Global Liberation Army, een terroristische organisatie die erop gebrand is om de wereld op haar knieën te brengen! Heers over alle drie de Command & Conquer-universums met deze ongelooflijke aanbieding.
De volledige lijst met beschikbare spellen uit de Command & Conquer-reeks:

– Command & Conquer

– Command & Conquer The Covert Operations

– Command & Conquer Red Alert

– Command & Conquer Red Alert Counterstrike

– Command & Conquer Red Alert The Aftermath

– Command & Conquer Tiberian Sun

– Command & Conquer Tiberian Sun Firestorm

– Command & Conquer Red Alert 2

– Command & Conquer Red Alert Yuri's Revenge

– Command & Conquer Renegade

– Command & Conquer Generals

– Command & Conquer Generals Zero Hour

– Command & Conquer 3 Tiberium Wars

– Command & Conquer 3 Kane's Wrath

– Command & Conquer Red Alert 3

– Command & Conquer Red Alert 3 Uprising

– Command & Conquer 4 Tiberian Twilight
Let op: Dit product bevat een code en geen disc!

De beste gaming producten vind je met korting bij PocketCubes
Specificaties:
Command & Conquer – The Ultimate Collection – Code in a Box – PC
| | |
| --- | --- |
| Merk | Electronic Arts |
| Minimale leeftijd | 16 |
| Genre | Actie |
| Speleditie | Standard edition |
| Personage | Geen personage |
| Gesproken taal | en |
| Format | Download voucher |
| EAN | 5035223110460 |
| Regio | Region Free |
| Platform | Windows |
| Inhoud leeftijdsindicatie | Geweld |
| Online abonnement vereist | Geen abonnement vereist |
| Online optie | Ja |
| Online multiplayer | Ja |
| Splitscreen | Nee |
| Aantal spelers offline | 1 |
| Doelgroep | Fanatieke gamer |
| Systeemeisen | CPU: Pentium III or Athlon.CPU SPEED: 800 MHz.RAM: 128 MB.OS: Windows 98/ME/2000/XP (Windows 95 & NT not supported)VIDEO CARD: 32 MB AGP video card with Hardware T&L and DirectX 8.1 compatible driver (GeForce2+, Radeon 7500+) |
| Reparatie type | Carry-in |
| Speltype | Real Time |
| 4K-gaming ondersteuning | Nee |
| Fabrieksgarantie termijn | 3 maanden |
| Gewicht | 133 g |
| Gewonnen prijzen | Geen |
| Ondertitels | Engels |
| Oorspronkelijke releasedatum | 2018-03-02 |
| Retour- en annuleerbeleid | Klik hiervoor op Retourneren onderaan deze pagina |
| Verpakking | Amaray |
| Talen container | en |
| Uitzonderingen fabrieksgarantie | Geen |
| Verpakking breedte | 134 mm |
| Verpakking hoogte | 15 mm |
| Verpakking lengte | 193 mm |
| Verpakkingsinhoud | Command & Conquer, The Ultimate Collection – Windows (code in a Box) |
| Virtual Reality mogelijkheden | Niet geschikt voor VR |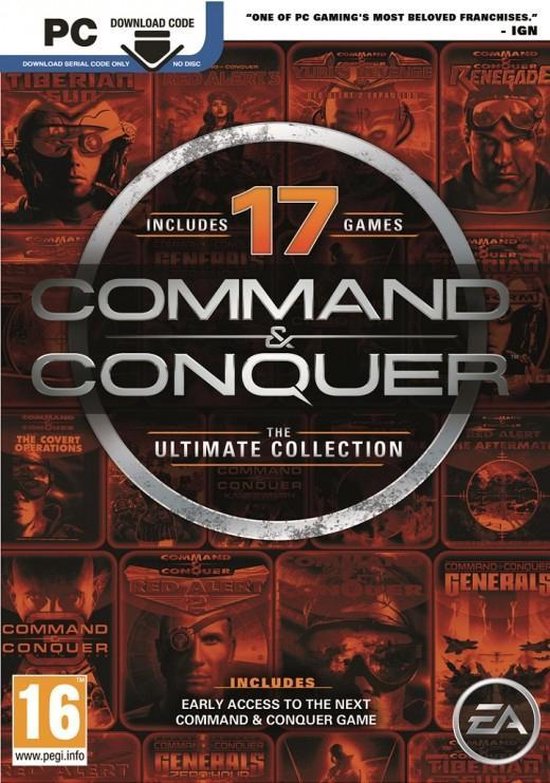 Command & Conquer – The Ultimate Collection – Code in a Box – PC